Let's go to Fort Soledad at southern village Umatac with rent-a-car.
Hafa Adai!
Beautiful nature in Guam. I feel peaceful during driving along the beach line on the way to the office, because the view is so beautiful. I hope you enjoy nature of Guam during driving to get a car.
Today I introduce Fort Soledad, one of the greatest overlook. Drive south to Agat on route 1 known as Marine Corps Drive. Before Navy gate, turn left. The road changed route 2. Keep driving south to Umatac. Pass Umatac bridge which is built during Spanish Colonial era. A little more driving, you will see the entrance of Fort Soledad. Just driving one hour from Tumon, you can come to the village which population is only 1000 and it still has remnants of Spanish Colonial era. You can see beautiful view of Umatac Bay from the Fort.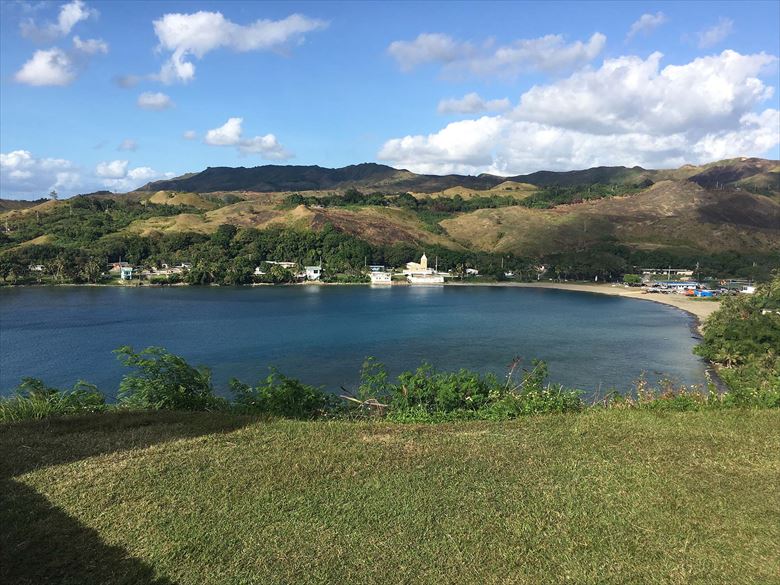 Fort Soledad was built to protect village and their trade ship from pirates during Spanish colonial era. It was the honor for trade ship between Philippines and Mexico. You can see not only Umatac Bay but also the shiny huge horizon.
Three replicas of Spanish cannons are at the park.
The fort was made in 1800's and fell into ruins because of rain, wind, wars and people. After World War II, the government of Guam renovated it as a park. This beautiful overlook remains a popular sightseeing spot.
Stone made lookout for watching pirates.
Knowing Guam's true history during your drive. There are many more places you can go with rent-a-car. Let's enjoy driving on Guam with safety first.